DAILY PAYMENT DIRECT TO YOUR TRADING ACCOUNT
80%Trading Rebate!
Welcome to all.
80% rebate for you??? Yes! It is true. Every
INSTA

FOREX
trader that registered his/her trading account under my affiliate account will be received
80% rebate commission
or
1.2 pips rebate commission
for every position his/her had entered. Payment is
DAILY
and direct to your trading account. No regret...and you'll be satisfied with my service.
Trading commission will be paid to my affiliate account base on your trading. It is important to record or save all your trading history.
Example :
Your position :
BUY 1.0 lot GBPUSD
. Then after certain time, you
CLOSED
that open position.
In this scenario, I will be paid
USD 1.50
or
1.5 pips
by the broker in my affiliate account. This is the total commision.
TOTAL COMMISSION = USD 1.50 (1.5 pips)
0.3 pips

or

20%

= USD 0.30 ( This is what I get...)
1.2 pips

or

80%

= USD 1.20 (This is yours...and it will be credited in your trading account by me automatically

DAILY

)
You must closed your trading position (lost or profit) minimal 3 pips and above. Can't below than that...

If you closed your trading position by 1 or 2 pips, we will not get anything from the broker. Please be informed.
DAILY PAYMENT DIRECT TO YOUR TRADING ACCOUNT ------------------------------

How our rebate system work?

The system of commission Rebate is an automatic system which refunds part of the commission (spread), paid for executing operations on Forex market. Within the framework of this system I get Rebate on behalf of you and set the volume of rebate to grant (in points) for all my affiliates.

The system of commission Rebate is targeted at improving traders' motivation for opening real accounts, because after the registration using my affiliate link, you will be able to receive a part of my commission. Rebates will be transferred from my affiliate account to your account every day.

If you have any questions concerning Rebate-system do not hesitate to contact me by e-mail:

taklukjagat1@gmail.com.

------------------------------------------------------------------------




How and when the rebate will be paid to you?




All the rebate commission will be automatically calculated and paid DAILY to your trading account

How to register the trading account?

Please follow this step carefully.

STEP 1 : Go to http://instaforex.com?x=global STEP 2 : Click

For Traders

>

Open Account

STEP 3 : Click "

Accept terms of agreement

" STEP 4 : Fill in the form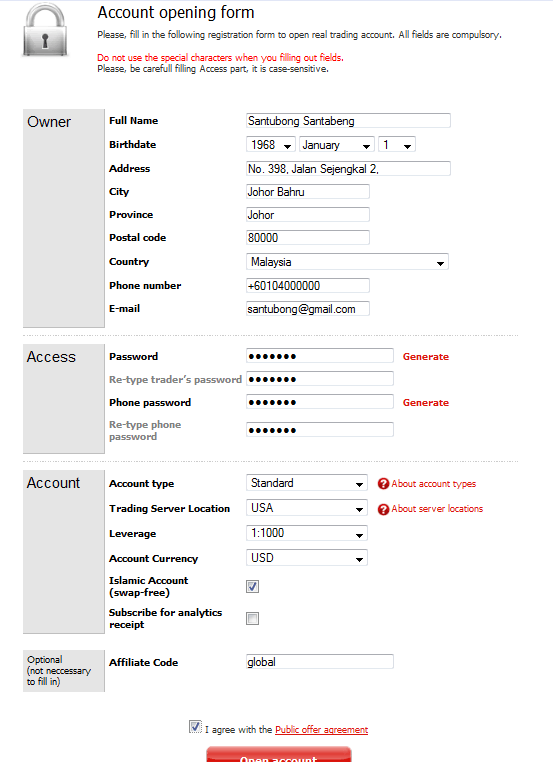 And finally , Click "

Open account

"


------------------------------------------------------------------------
How to acknowledge me that you are registered the trading account under my affiliate account?
Please fill in the form below (SUBJECT as 80% REBATE, and put your trading account number in MESSAGE) and click SEND. That's all :)
REBATE REGISTRATION FORM

This online form was provided by Freedback.

Conformation email will be send to you as soon as we received your registration particulars. Then, you can proceed to deposit your money into your trading account.
*Notice: all rebate-payments to your trading account do not require any actions from your part, except from the one-time registration using form above. There is no need to send us the statements, run deal records - all these transactions will be carried out automatically once a day by means of direct payment to your trading account.
For your information, all rebate commissions will be paid daily ( after end of that particular day plus around 18hrs and longer for Singapore Server's trading account ) and automatically by the broker (Instaforex Partner Division) direct to your trading account. The payday is everyday (including Saturday and Sunday) except Monday and Tuesday.

Payment of these rebate is done by them. We just wait for the payment. My task is only allocate the rebate percentage in their system through my Partner Cabinet. Others than that is done by them. Don't worry...you'll be received it in a short of time. If delayed, it is on the broker side. We have nothing to do with it.

If you want to ask anything about your rebate, you can freely contact them at :

INSTAFOREX Partner Relations Department - Working Time: 8:00-17:00 (GMT 00)

E-Mail: eng.partners@instaforex.com
Yahoo Messenger: IFX.partners_consultant
Yahoo Messenger: IFX.partners
Skype: IFX.partners
Skype: IFX.partners_consultant
ICQ: 421473957
ICQ: 464247433
Phones: +7 (4012) 771-583.
HAPPY TRADING!
Any problem? You can contact me using :
Email :
taklukjagat1[at]gmail.com
Yahoo messenger :
akutaklukjagat[at]yahoo.com
DAILY PAYMENT DIRECT TO YOUR TRADING ACCOUNT